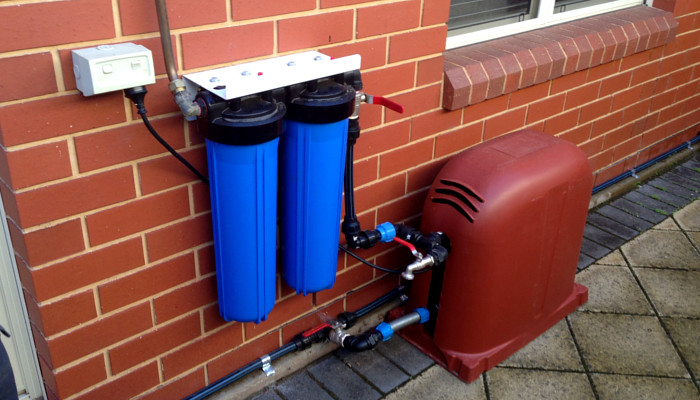 WATER PUMPS
To provide water pressure from your tank to enable you to use a hose, an irrigation system or plumbing into your home you'll need a rainwater pump. Adelaide Natural Rainwater Solutions supplies a wide range of pumps from the major manufacturers including Grundfos, DAB, Bianco and Pumpmaster.
Correct rainwater pump selection is critical in how your rain harvesting system operates. We'll advise you on the best pump for your use including quiet submersible systems. We even have set and forget systems for plumbed-in installations that automatically switch between mains and rainwater as your tank level varies.
FILTRATION
Almost every rainwater tank system can benefit from the addition of a filter.
We install a wide range of filters specifically designed for rainwater use. From whole-of-home silver carbon systems and under sink filters through to simple sediment filters to prevent blocks in your irrigation system. Talk to us today about your requirements and intended water use.
We also provide an annual filter replacement service. Whether you bought your filter through us or through someone else, we can help you stay on top of replacing your ever-important filter before it has an impact on the purity of your water.
LEAF EATER RAIN HEADS
Probably the most important accessory you can install in your rain harvesting system is a leaf catcher or leaf eater.
Most commonly installed at each downpipe connected to your tank a leaf eater will stop leaves and larger debris from entering your tank. We have a wide range of models available to suit different gutters, heights and installations. A must have low-cost accessory for your rainwater tank in Adelaide.
FIRST FLUSH DIVERTERS
A first flush diverter is an essential part of any quality rain harvesting system. They will remove the first flush of dirty water coming off your roof and gutters preventing dust, dirt and animal droppings from entering your rainwater tank.
Simple inline first flush diverters can be mounted at each downpipe for systems with multiple hookup points or at the rainwater tank itself. For larger wet systems we have in ground first flush diverters available. We'll help select the best model to use in your rain harvesting project.
TANK LEVEL GAUGES
You can't always rely on tapping on the side of your tank to check its level.
We have several different types of level gauges available. You can have a simple low cost dial gauge that uses a float in your tank to display the water level or an electronic water level gauge that transmits the water level to a digital readout on an indoor display.