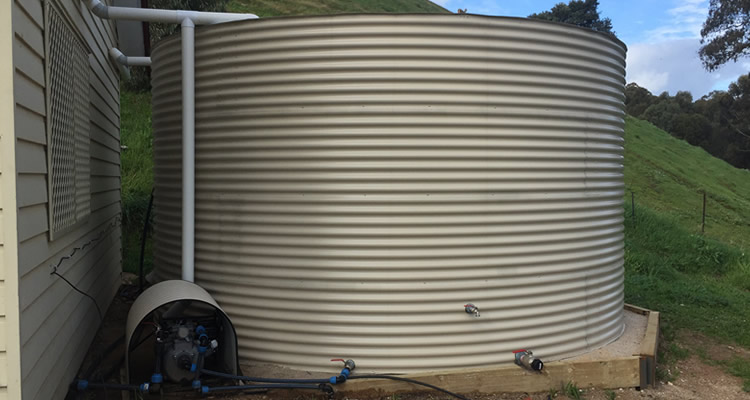 Built on Site Tanks
No access, no problems. We'll can supply you with an Aquaplate® or Galvanised rainwater tank built on site in front of your eyes. Save expensive crane and site costs with a built on site tank. Call us today to discuss a solution.
Aquaplate or galv rainwater tanks built on site
Rainwater tanks built on site solve common problems related to access when planning a rain harvesting system. Many established homes have blocked or limited their access with carports, pergolas, fencing, trees and landscaping.
Quite often homeowners have plenty of space in their back yard for a large tank but simply no way to get it in.
Some may settle for using a combination of smaller round or slimline tanks which generally results in a much higher cost. Another option is to crane in the tank but that can have its own problems due to distance, power lines and cost.
The best solution may be to have a rainwater tank built on site. Built on site steel tanks solve tight access problems. All our installers usually need is an entry point as wide as a normal household door to get the materials and tools through
WE ALSO DO DELUXE ROOFING
THE PROCESS
The process starts with rolling galvanised or Aquaplate steel corrugated sheets into sections off site. The sections are delivered to site along with the base and top of the tank. Then using special tools the installers will build your tank in the same way it would have been manufactured in a factory.
The end result is a professionally manufactured custom steel tank that's covered by the same warranty as a factory-built tank and there are hundreds of sizes to choose from.
GET A QUOTE
To discuss your build on site rainwater tank requirements or arrange a free in home quotation call us on 0435 713 430."