Rain Water Harvesting Systems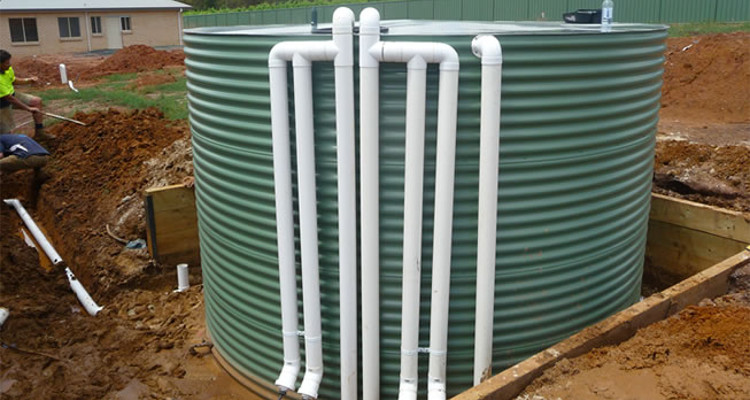 Water is precious, store it with a Rain Harvesting System
With the rising costs of water and the uncertainty of water restrictions from year to year you should consider installing a rain harvesting system for your home. Whether it's a small tank to water a few plants or a complete rainwater system plumbed to your home we can help.
How much water can you collect?
The key to a good rain harvesting system is to capture as much water from your roof as possible. That way, when we experience small rain events in the drier months your tank will receive a meaningful top up lasting you longer through the summer months.
As a guide, Adelaide's average rainfall is 550mm (BOM statistics). For every square metre of roof area you can collect one litre of rainwater per millimetre of rainfall. A 10% reduction should be made for evaporation and wind. For example, a home with a roof area of 150m2 can collect 74,250 litres of water per year.
150m2 roof area x 550mm annual rainfall x 0.9 evaporation = 74,250 litres
As you can see, you can collect a significant amount of water annually, but most homes don't have the space for tanks that size. Even a rainwater tank of 5,000 litre capacity that's plumbed to your laundry, hot water service and for toilet flushing will greatly reduce your annual water consumption. During the winter months your tank will continually replenish supplying your home with water, then at the end of winter switch your home back to mains water and keep your rainwater for the garden use in summer. You can easily save a third to a half of your annual water consumption with a rain harvesting system that can be installed in almost any home.
We offer a full service, DIY or installed
Taylor Made Tanks will design, supply and install a rain harvesting system to suit your available space and needs. We supply Adelaide's largest range of steel and poly round and slim line tanks making selection easy. And we'll professionally take care of all stages of installation from site and base preparation, storm water connection, electrical and plumbing through to site clean up.
To the left you'll find links to our range of round steel rainwater tanks, slim line steel, poly tanks,pumps and accessories. We're happy to supply a complete rain harvesting kit package if you would like to do it yourself or sit back and let us do it for you.
Factory direct rainwater tanks
We manufacture our Aquaplate and galvanised rainwater tanks in Adelaide factory. Buy direct, cut out the middle man and save.
Built on site water tanks
No access, no problems. We'll built your Aquaplate® or Galvanised rainwater tank on site with factory components. Save expensive crane and site costs with a built on site tank. Call us today to discuss a solution.
Obligation free design and quote
Visit our display centre or call us to discuss how you can make an impact on your water bill, help the environment and save money. We cover all of Adelaide, Adelaide Hills, Barossa and surrounds – Call 0435 713 430