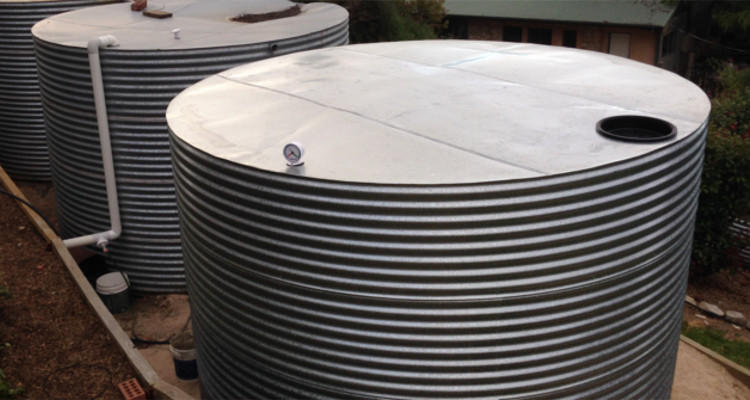 Traditional Steel Rainwater Tanks Adelaide, updated
There's nothing more traditional than a quality steel rainwater tank in your back yard. And today's steel tanks are designed and built to last much much longer with a range of sizes and design options never seen before.
Long life Aquaplate® or galvanised options
Aquaplate has been designed specifically for rainwater tanks and is the best choice for the longest life. It' available in a range of Colorbond colours and the internal surface of the steel is bonded with a food grade polymer lining. This lining protects the steel from corrosion and provides an extremely long life. In fact it's covered by a 20 year Bluescope Warranty against rust and corrosion. Aquaplate steel rainwater tanks Adelaide are made in round and slim line styles with 1000′s combinations of size and colour.
We continue to supply rainwater tanks in galvanized steel and have a strong demand from customers seeking an economical good looking rainwater tank. Galv rainwater tanks have been around for over a hundred years and have proven their long life and durability. Just think of that old galv tank in your parents back yard. How long was it there before it started to rust, 20 years, probably more? Our heavy galv tanks are custom made in round shapes with over 70 sizes available.
A steel rainwater tank to fit any space
We supply steel rainwater tanks in Adelaide both round and slim line designs with an almost unlimited range sizes available. And with many years experience you'll be surprised how we can find a spot for a rainwater tank just when you thought you didn't have the space. We'll even build a steel rainwater tank on site for difficult to access back yards.
Book a quote today
Call us today to arrange a free in home design and quotation. We cover all of Adelaide, Adelaide Hills, The Barossa and surrounds. Ph: 0435 713 430.